Traverse City & the Leelanau Peninsula, Michigan
One of the last surviving commercial fishing villages in Michigan is in Leland in the neighborhood known simply as Fishtown. But while commercial and charter boats continue to dock and unload their chubs and whitefish, their hauls aren't anything like they used to be. Today, most of the old, weathered shanties once used for net mending, ice, and storage are owned and maintained by a nonprofit preservation group. They are rented out as galleries, boutiques, and specialty stores. Still, some old dockside businesses are keeping the old traditions alive. Among them is Carlson's Fish, which has stood on these docks since 1904 and continues to serve up smoked whitefish paté and whitefish sausage. Just up the river is The Cove, a restaurant and bar that serves a range of fresh, local seafood options – as well as a Bloody Mary garnished with a smoked chub called the "Chubby Mary."
If you like your drinks less fishy and more fruity, the Leelanau Peninsula is also home to nearly a dozen wineries and distilleries.
And for the amateur angler, there is still an abundance of locations for fishing, fly fishing and ice fishing, as well as several area charters. In fact, in 2008, Field and Stream magazine called Traverse City a "freshwater wonderland" and one of the best places in the U.S. to live if you love to fish. "Diversity is the key," wrote Field and Stream's Kirk Deeter, "Lake Michigan with salmon and steelhead; Grand Traverse Bay with some of the best smallmouth pockets and carp flats in America; and more rivers and natural lakes filled with trout, bass, and panfish than you can begin to touch in one season."
Thanks to Lake Michigan breezes and sandy soil, Michigan is also the largest producer of tart cherries in the United States, and nowhere is that fact more celebrated than in Traverse City during the annual National Cherry Festival. Held every year in July, the fest features three parades, a cherry-pit spitting competition, and, of course, several cherry-pie eating contests.
Traverse City has another cherry-related claim to fame: locals baked the world's largest cherry pie here in 1987. It was 17-and-a-half feet in diameter and weighed nearly as much as a school bus. They made the pie pan into a permanent monument. (Their pie record was beaten a few years later by a Rotary Club in British Columbia, but don't mention it to locals.)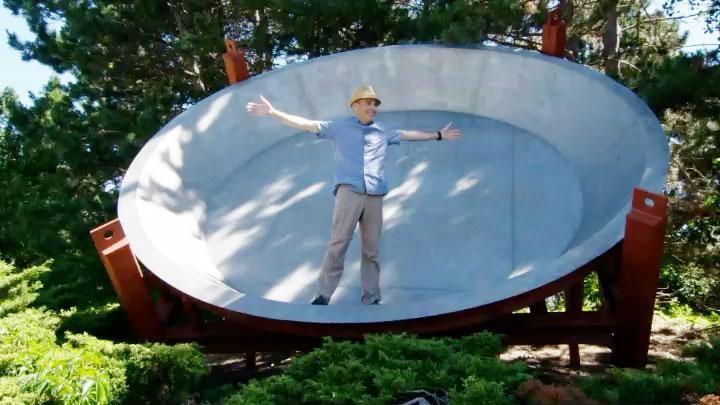 The Cherry Pie Controversy
Two Michigan towns (Charlevoix and Traverse City) both lay claim to having baked the World's Largest Cherry Pie. So, who's right? Geoffrey Baer investigates.
One of the biggest draws in the area is Sleeping Bear Dunes National Lakeshore, named one of the best 21 beaches in the world by National Geographic. With 35 miles of Lake Michigan beaches, more than 100 miles of hiking trails, a paved biking trail, and numerous inland lakes and streams, the park is a favorite among outdoor enthusiasts. In warmer months, outdoor aficionados come here to hike, fish, bike, camp, get on the water, or just sit back and soak up the sun. In the winter months, the whole region is popular for sledding, cross-country skiing, and snowshoeing. There are several locations that rent equipment in both Glen Arbor and Traverse City.
The park is also home to the Maritime Museum, open in the summer months and located inside the old Sleeping Bear Point Coast Guard Station. Visitors learn about the history of the U.S. Coast Guard and Great Lakes shipping – and have a chance to witness (or participate in) a classic breeches buoy rescue drill.