Lake Geneva, Wisconsin
By the turn of the twentieth century, Lake Geneva, Wisconsin was known as the "Newport of the West," the place where the who's who of Chicago's Gilded Age came to escape the pollution and pace of the city. Flamboyant chewing gum magnate William Wrigley, his son, Cubs owner P. K. Wrigley, bicycle baron Ignatz Schwinn, washing machine maker F. L. Maytag, and many more wealthy industrialists had elaborate mansions on Lake Geneva's shores.
While many mansions from that era are no longer standing, several have been preserved or have been built in the ensuing decades as Chicagoans continue to flock to the lake and its environs.
Many of those mighty structures can be seen up close by walking the 26-mile-long Shore Path. The path began as a Native American road between villages and was later used as a workman's path for estate staff. It remains open to the public by local ordinance, and homeowners continue to maintain the path as it crosses through their property. The result is a trail whose character changes constantly – from stepping stones, to gravel, brick, and even wood. For those with mobility challenges, the easiest portion of the path starts at the Lake Geneva Library.
If you're looking for more nature in your walk, head to Big Foot Beach State Park. The park, like many area institutions, was named for a Potawatomi leader who fought against non-native settlement for decades. He was ultimately forced from his native land in 1836 as a result of a one-sided treaty. Today, the park that bears his name has preserved some of the wilderness of the region. The clear water also draws abundant bird species, including great horned owls, eastern kingbird, marsh wren, and sedge wren. Fishing is allowed in the lake or on a pier, and any anglers who didn't pack their gear can borrow equipment, for free, from the park office. The park also features a number of short, relatively easy hikes, several campsites, a public beach, and an archery range. Archery hunting is permitted here for a short while in the winter and spring months.
Other popular beaches on the lake include the City of Lake Geneva's Riviera Beach and the smaller Williams Bay Beach. Jet Ski, powerboat, and pontoon rentals are also abundant on the lake, especially at the west end.
Just outside of the Lake Geneva area is bucolic Wisconsin farmland, and at least one small creamery that is keeping the region's agricultural heritage alive. If you're longing for a drive in the country – and some old fashioned Wisconsin cheese -- head to Highfield Farm Creamery. Owners Denise and Terry Woods maintain a small herd of Jersey cows and make several artisanal cheeses – including, of course, curds -- on site.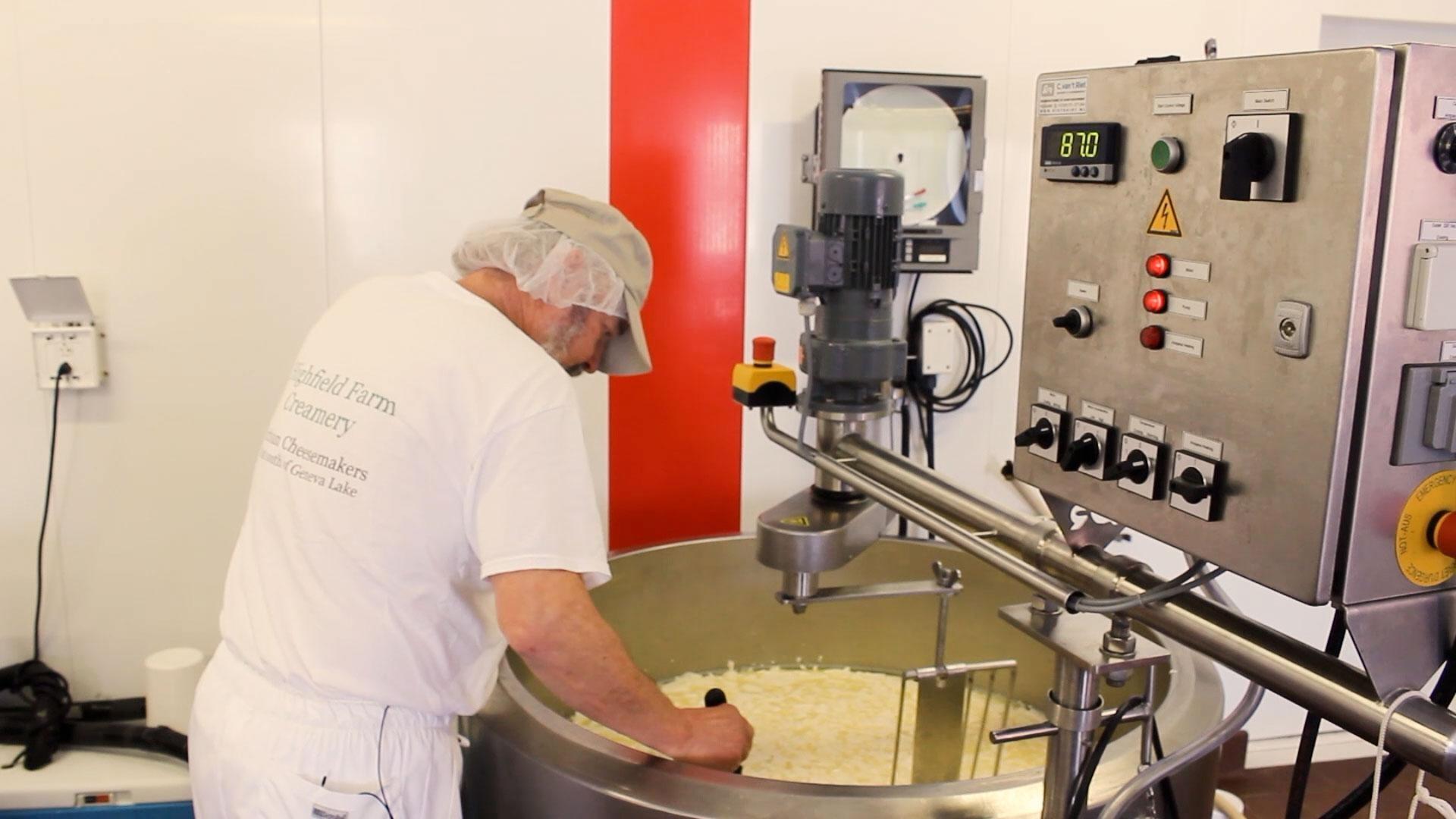 How Wisconsin Cheese Curds Are Made
Visit Highfield Farms, a small artisanal creamery in southern Wisconsin, to see how Wisconsin's ubiquitous snack is made.
Golfers will also enjoy the two championship golf courses just outside of town, one of which was designed by Jack Nicklaus. They are approximately three miles northeast of the lake at the former Lake Geneva Playboy Club Hotel, Hugh Hefner's first and favorite Playboy resort. When Hef cut the ribbon here in 1968, he transformed peaceful Lake Geneva into a ritzy celebrity destination. In its heyday, the hotel and its cabaret stage attracted some of the era's most well-known performers, including Bob Hope, Sonny and Cher, and Frank Sinatra. Playboy got out of the hotel business in 1982, but the golf courses were kept intact, and today are part of the family-friendly Grand Geneva Resort & Spa, which took over the property in 1994. Come winter, it becomes a destination for snow bunnies, with skiing, snowboarding, and snowshoeing.