For generations, Black music has been one of the foundational sources for liberation, survival, salvation, and entertainment. Gospel music has been one of the most integral and sacred forms of that music. It birthed a generation of storytellers, influential musicians, and agents of social change, such as Mahalia Jackson, Shirley Caesar, Kirk Franklin, and many others. The origins of gospel music lie in the transatlantic slave trade, as African musical traditions blended with new forms born out of the horrors of slavery. The rich lineage of gospel music began in earnest as a young man named Thomas Dorsey came to Chicago during the Great Migration. His own spiritual rebirth at Pilgrim Baptist Church in Chicago created a form of music that married blues influences with religious themes. Dorsey's legacy ushered in a generation of Black artists who broke new ground by turning their voices of joy and pain into something powerful.
The African Roots and Origins of Gospel Music
Beginning in the sixteenth century, the transatlantic slave trade was the largest "long-distance forced movement of people in recorded history," according to the Lowcountry Digital History Initiative. Slave traders brutally kidnapped and transported an estimated 12 to 15 million Africans to the Americas and Europe on ships, where approximately 10 to 19 percent died in inhumane conditions.
Author, historian, and minister Reverend Kathryn Kemp told Chicago Stories that gospel music was the "grandchild" of the spirituals that came from the slave trade. Kidnapped Africans sang to ease the trauma they experienced on the ships and later, while enslaved, as a way to cope.
"The slave ships allowed them to sing because they saw that it calmed them. And although they were separated because of language when they got to the United States, they could hum and learn the language," Kemp said. "They were able to make words to go with their music to describe their situation. So music was a way of emotionally releasing."
Gospel historian Bob Marovich told Chicago Stories that enslaved people were not allowed to worship as they had in Africa. Slave owners "were afraid of it," he said, as they were wary of what enslaved people were trying to communicate. As they were forced into Christianity, they began to learn the European style of hymns.
"In America, because so much of the country was illiterate at one time, the only way to really teach people singing was to use what they call the 'Doc Watt style' or the long-meter hymn," Marovich said. Enslaved people picked up that style, in which the congregation repeats back what is sung, and they later used it when they created their own churches. Even though they did not write the music, he said, they made it their own.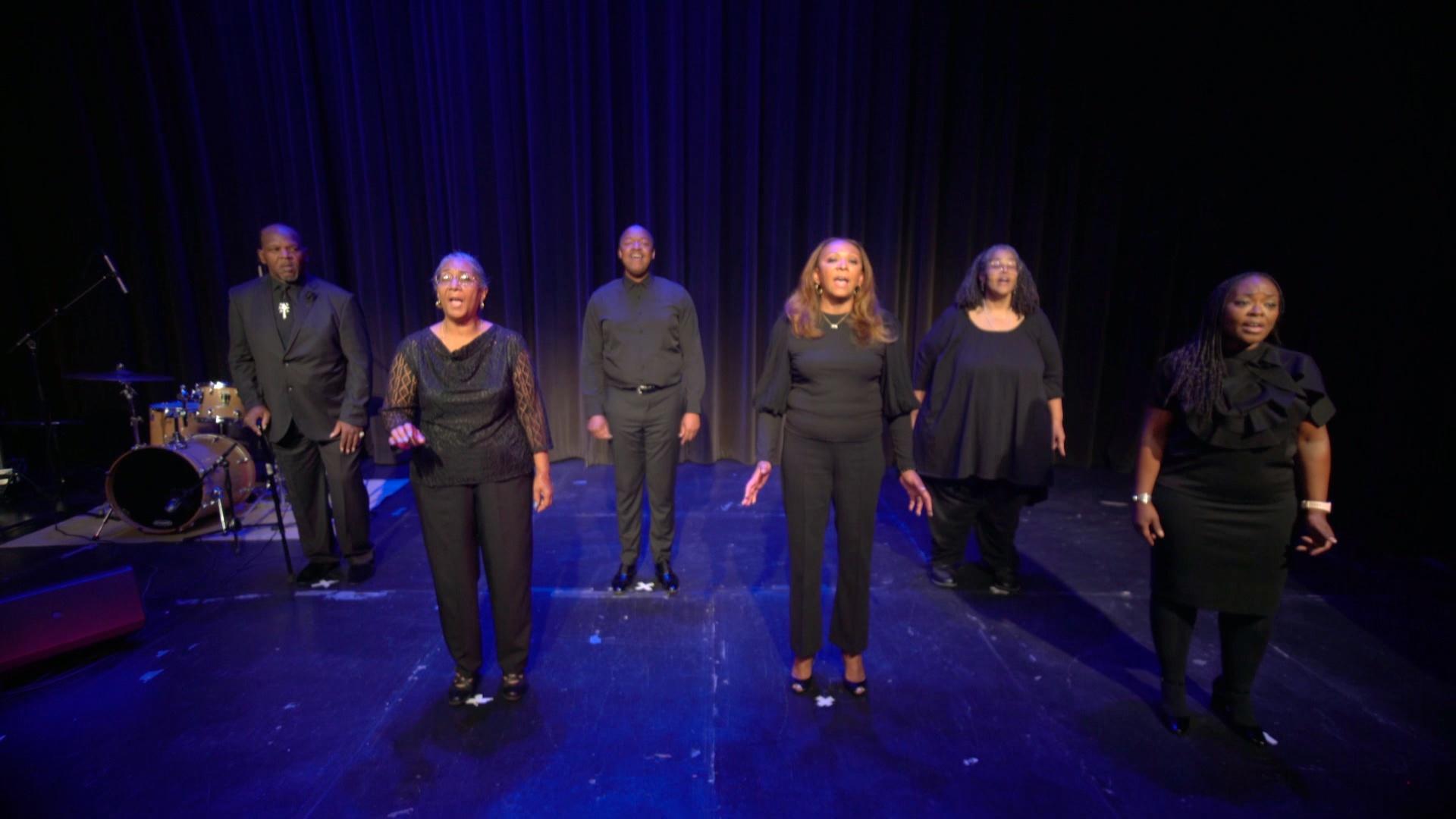 "They basically used the white denominational hymnals," Marovich said. "They might have heard 'I Need Thee Every Hour,' but it wasn't sung like you might hear in an Episcopalian church. It was sung with the style that came back from the Middle Passage. It was [sung] with this heart and soul of the rhythm and emotion."
But amid their oppression, enslaved Africans retained aspects of their own cultures and religions to create new musical traditions. Reverend Otis Moss III of Trinity United Church of Christ told Chicago Stories that the roots of the most sacred of Black music are in West Africa. This music carried a spirituality and a similar musical scale – specifically the pentatonic scale that would be foundational to blues music.
Despite language barriers, according to musician and music scholar Johari Jabiri, early enslaved people found commonality through an African ritual where people gather and sing in a circle called the "ring shout."
"They have that ritual in common," Jabiri said. "It becomes the common expression by which Black people establish a oneness amid diversity."
Another musical device that Africans brought was "call and response," which is still used by gospel choirs in Black churches today. To Jabiri, the connection the choir makes with the audience is a "reflection of humanity" – the idea that everyone can participate. 
"There is this connection when a gospel choir performs. There is this sense of a group of people singing harmony and singing rhythm together that makes the listener want to be a part, want to get involved, whether you're talented or not. That's the reflection of humanity."

— Johari Jabiri, musician and musical scholar 
Despite being forbidden to read, write, or play instruments, enslaved people created "a new theology," according to Moss. Rather than accepting the doctrine put forth from white churches that told enslaved people to be docile, they created their own message. 
"People of African descent said, 'We are completely erasing what you're saying,'" Moss said. "'We're going to rewrite what you are stating and speak the truth of the stories that we have heard in the Bible and [in] the spirituality that has been passed down through our ancestors.'"
Their songs delivered messages of freedom, often in a way that would not be evident to the enslaver. Songs such as "Swing Low, Sweet Chariot" contained double meanings. 
"If you are the enslaver, you think that enslaved Africans are happy, but 'Swing Low, Sweet Chariot' is about freedom, meaning that when the sun goes down, there's a chariot coming. What is that chariot? It means I'm going to run away," Moss said. 
He added that some scholars believe that the way certain songs were sung – for example, in a higher or lower octave – would indicate in which direction enslaved people could escape. An added lyric, such as "down by the riverside," could have hidden directions that could indicate the safest passage to freedom.
"We always had a secret language that came through our music," Moss said.
The Great Migration and Thomas Dorsey's Creation of Gospel Music
In 1915, Black Southerners began to move north and west in the Great Migration in search of work, a chance for a better life, and to escape the Jim Crow laws of the South. Chicago, having an established Black community, was considered "the promised land." The influential, Black-owned Chicago Defender newspaper promoted that idea, publishing stories about Southerners who had succeeded in Chicago, as well as job postings, housing listings, and travel tips. Between 1915 and 1940, the city's Black population doubled.
Churches were an important resource for Black migrants. Sherry Williams, founder of the Bronzeville Historical Society, says that migrants often carried a letter of intent to join a local church, as her grandmother did. They would have inside access to housing, child care, and employment opportunities.
"The African Methodist Episcopal churches had this huge network," Williams told Chicago Stories. "They would know they would be meeting up with a congregation that was going to welcome them."
Despite support from their church communities, there was sometimes a culture clash between migrants and Chicago churches. Marovich told Chicago Stories that some churchgoers carried an air of "middle-class respectability."
"You heard it even in the Chicago Defender," Marovich explained. "'You don't know how to dress, you don't know how to speak. You don't know how to be polite. You don't do this and that.' It's sort of this very condescending way of saying, 'If you come to Chicago, you can't be country.' And people took umbrage at that."
This did not stop a 17-year-old musician and Atlanta Baptist College (now Morehouse College) graduate from Georgia named Thomas Andrew Dorsey. Dorsey wanted to make a name for himself when he joined the Great Migration to Chicago, first residing in Bronzeville in 1919. The son of a Baptist preacher and a church organist, Dorsey migrated from Villa Ricca, Georgia, with aspirations of being a professional musician. 
Julius Jones, assistant curator at the Chicago History Museum, told Chicago Stories that throughout the city's South Side, musicians made records at small, independent recording studios. 
"If you were someone who was interested in making music, Chicago was perhaps one of the premier places in the entire country to be," Jones said.
During Dorsey's first years in Chicago, he worked at a steel mill while burnishing a reputation as the "whispering piano player," quietly playing background music for small venues and "rent parties" – parties in which a hat was passed around to help tenants pay the rent.
He eventually found his first taste of success when he befriended blues singer Ma Rainey and eventually accompanied her on tour – all the while still trying to write religious songs. Dorsey often bounced between the religious and secular worlds, since he wasn't having success with his religious tunes but still felt pulled toward his faith. He later wrote "It's Tight Like That" with guitarist Hudson "Tampa Red" Whittaker, a controversial song that was considered scandalous at the time, but was lucrative for Dorsey.
After Dorsey married Nettie Harper in 1925, he suffered a nervous breakdown. For three years, he was unable to perform, write, or play the piano, due to what many believed was severe depression. After his recovery and the sudden death of a friend, he once more turned back to his faith and poured his sorrow into a song he wrote called "If You See My Savior." He infused the techniques he knew from the blues into a somber and spiritual tune, leading to the creation of what he called "gospel blues."
"He knew all the blues licks and chords, and he takes that music, he takes those chords and those sounds, which are very African, and then he places on top of it lyrics that speak of the gospel," Moss said. 
While he had created a transformative style of music, many of the older church leaders vehemently dismissed his innovations. The Stroll, a vibrant stretch of clubs and nightlife in Bronzeville, was often bustling with music deemed unfit by ministers.
"There are ministers who have a fit. They are upset that the music sounds so much like what's happening on Saturday night," Moss said. 
But Dorsey kept composing. He co-founded the National Convention of Gospel Choirs and Choruses, sharing his music with congregations around the country. He began working with a group of women singers, including a young woman named Mahalia Jackson. His music grew in popularity, particularly in small storefront churches and among a younger generation of churchgoers. In 1931, a new pastor at Ebenezer Baptist Church invited Dorsey to organize a gospel chorus.
"It could have gone either way. They could have been very silent, polite, or they could have loved it. And they loved it."

— Bob Marovich, gospel music historian
When pastor Dr. Junius C. Austin of Pilgrim Baptist Church witnessed the enthusiasm of the congregation at Ebenezer, he invited Dorsey to create a gospel choir and serve as the director at his church, which was one of the city's largest Black congregations at the time. From there, gospel music spread.
"In the Chicago Defender, every week in 1932, you start to see churches announce, 'We're building a gospel chorus,'" Marovich said.
In 1932, amid his newfound professional success, tragedy struck Dorsey again. Dorsey's wife Nettie died in childbirth. Their child died a day later. Out of this tragedy, he wrote "Take My Hand, Precious Lord." He debuted the song at Pilgrim Baptist Church.
"This song was his call out to God that I'm feeling helpless, that I'm feeling hopeless, but it's become a mantra for…many people who have felt hopeless," Williams said. 
"He tapped into that universal power of loss. And working-class migrants would have needed someone to do that. They would've needed a poet. And Mr. Dorsey becomes that person."

— Julius Jones, assistant curator at the Chicago History Museum
The invention of the radio and its growing popularity also boosted the popularity of gospel music. In 1934, the First Church of Deliverance aired its first service on the radio, opening with a 200-voice choir performance. It took gospel music to a wider audience.
"First Church of Deliverance probably did as much to disseminate the sound of gospel as Thomas Dorsey," Marovich said. 
Dorsey's Legacy and the State of Gospel Music Today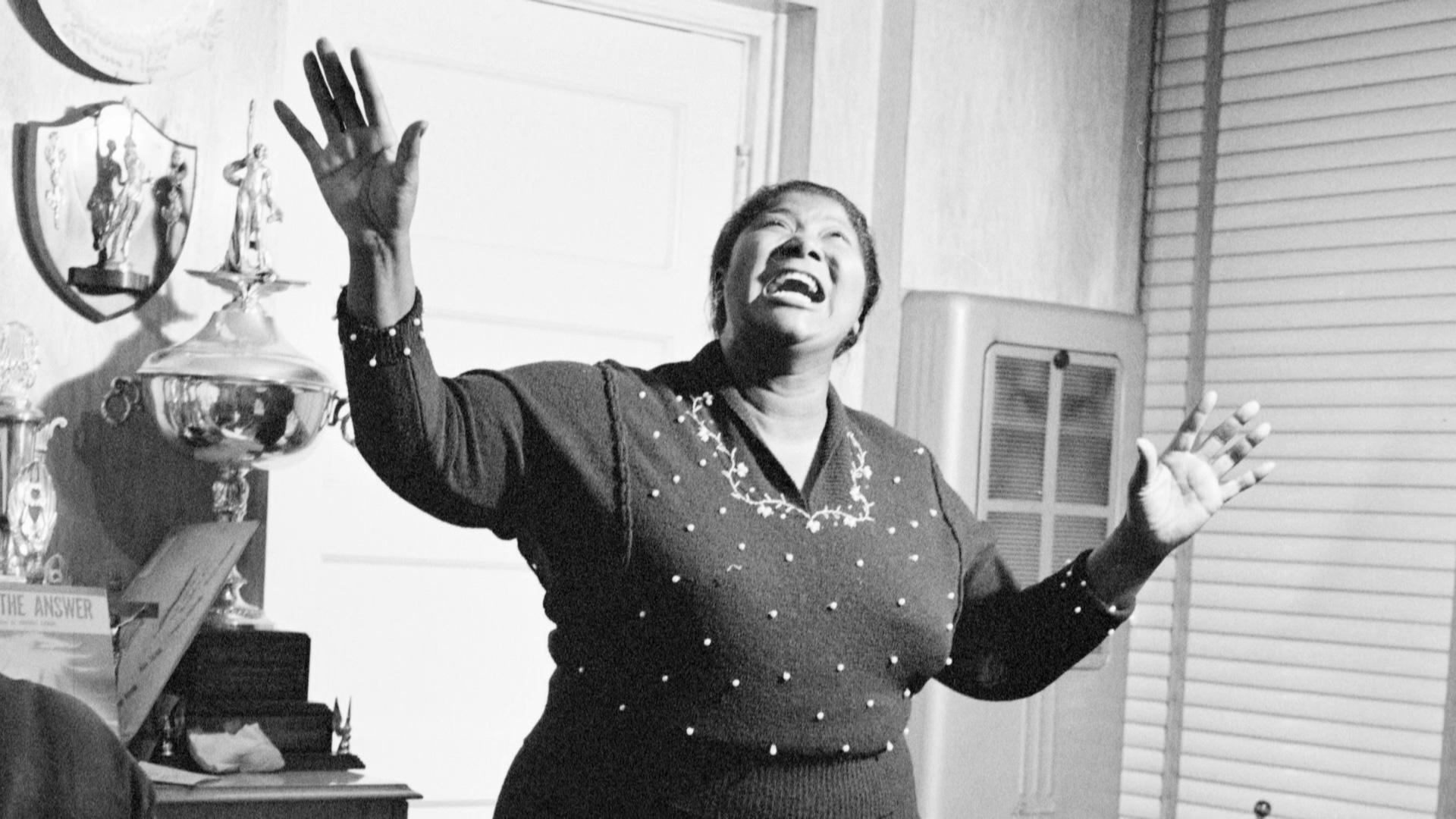 Dorsey's legacy would carry over into another generation – and Mahalia Jackson helped carry it. Jackson took gospel music from religious settings to the commercial realm and popularized it. She also became involved with the civil rights movement after meeting Dr. Martin Luther King at the Montgomery bus boycott in 1955. In 1963, Dr. King invited Jackson to sing before his I Have A Dream speech at the March on Washington, cementing gospel music's place in the civil rights movement.
Following Dorsey and Jackson's influence, a new generation of Black musicians have taken the spiritual foundations of gospel music and modernized it with their own language, while blending it with other genres of Black music.
"So much of [Black music] has been influenced by Dorsey and what he did," rapper and pastor of University Church Julian "J. Kwest" DeShazier told Chicago Stories. "You can hear it in the Motown sound and what R&B music was doing in the '80s and '90s. That was gospel music. It was to the point where you could take out when somebody was saying 'girl' and just put in 'God.' And…it would turn into a gospel song." 
After the civil rights movement and the assassination of Dr. Martin Luther King, Black and poor youth of the Bronx gathered for neighborhood parties spearheaded by DJ Kool Herc, who is often credited as the creator of hip hop. Hip hop provided an escape and release for Black youth in the same way that music has always been a reprieve for Black Americans.
DeShazier said that experiencing hip hop for the first time in the '80s was revelatory for him. 
"It was a language that spoke to me in a way that I had never heard before from other genres of music," said DeShazier. Though the Washington Park native performs his own brand of rap music, he pulls from his spirituality, considering himself just as much a gospel artist as his predecessors.
"I always consider myself a gospel artist because my faith is a part of this music. I know that the label of gospel and hip hop sometimes is like, 'Oh, is it corny?'...A lot of people for that reason have avoided the labels of all Christian hip hop or gospel. But for me, it's an honor knowing the legacy of Dorsey and other Black gospel artists."

— Julian "J. Kwest" DeShazier, rapper and pastor
Similarly, R&B and hip hop fusion artist and activist Ric Wilson grew up in Fellowship Missionary Baptist Church. Drawing from the church's involvement in the civil rights movement and watching well-known musicians such as Stevie Wonder, Marvin Sapp, Smokey Norful, Tamela Mann, and Al Green visit his church, he was inspired to pursue music as a career and apply everything he learned from gospel to his own music.
"I tried to start digging deeper into where my music origins come from, and it was the church," Wilson said. "I incorporated that into my live set. I think that's how people come to my show and feel good about themselves. And everyone says to me, it's such a positive thing. That's the church."
The roots of gospel music are still alive in today's artists, and the approach to making spiritual music has become more diverse, as seen with artists and Chicago natives Kanye West and Peter Cottontale. Wilson said that much as Black music and culture changed with the Great Migration, it continues to diversify as populations still shift today. 
"As time keeps going on, these people are in big cities, and as they're moving differently, everything starts to be a little different. When that happens, over time, sonically things are sounding different," Wilson said. 
Despite the evolution of gospel and the emergence of new genres, DeShazier said that the thread of freedom has always been present in Black music, whether it was in an early spiritual, a blues song from the Jim Crow-era South, or a hip hop song discussing the pain of poverty. There are plenty of moments, he said, where religion or faith may have been left out of Black music, but the message of overcoming struggles has always been there.
"They never got rid of that," DeShazier said. "We're going to figure out a way to keep our faith in the midst of everything that's going on. That's the power of Black gospel music – not its ability to get away from life, but to include life and keep the faith in the midst of all that is happening."