Viola Spolin, the "Mother of Improv," once wrote that theater and improv should be for everyone. In her 1963 book Improvisation for the Theater, she says, "Everyone can act. Everyone can improvise. Anyone who wishes to can play and learn to become stageworthy."
Some performers and improv theater leaders are hoping that the future of improv in Chicago actually looks a little something like its Spolin foundation, where improv is celebrated as an art form that anyone can do.
As some theaters reopen and have conversations about what it means to be more inclusive, one group of seasoned improvisers is hoping their new nonprofit theater will be a place that welcomes all kinds of performers, regardless of their experience or background. That new enterprise is Stepping Stone Theater. It may not have a permanent stage yet, but founder and executive director Julia Morales has high hopes for its future.
The impetus for Stepping Stone came from a Facebook post during the summer of 2020. Following the murder of George Floyd and the ensuing social unrest and accusations of racism at several theaters in the city, Jonald Reyes, who is now Stepping Stone's business manager and associate artistic director, had posted on Facebook about starting a new theater.
"I wasn't sure if he was joking or what, but I commented and I said, 'Already on it,'" Morales said. "So many people had liked the comment and were asking and messaging like, 'Are you really going to do this?'"
Since then, Stepping Stone has been working to establish itself with improv workshops and events as it works towards finding its own performance space. Stepping Stone's mission statement states that it was "created to celebrate and amplify the creative voices of BIPOC, LGBTQIA+, persons of disabilities, women and non-POC allies of all ages by providing affordable and accessible resources with a focus on community outreach and theatrical performance."
Morales and Reyes said they saw a big difference in the improv experience for performers of color and wanted to intentionally express their support of those performers in their new theater. Reyes says there was "a lot of talking" happening at other theaters about how to be more inclusive, but not a lot of action.
"Going through [improv] classes, it was hard to relate to the majority of the number of people in the space, not only the instructor or facilitator, but my peers as well," Reyes said. "Sometimes it would be hard to do stuff that I thought was funny for me and I would love to bring to the table, but somehow they would spin it into stereotypes or something that I was very uncomfortable with. So it was hard to just be who I was in the room."
Reyes said he knows a lot of performers who experienced the same thing and that this environment was "becoming too stressful" for a lot of artists.
The cost of taking improv classes can add to that stress for many young performers, too. Morales said the expense "really shocked" her when she first started taking improv classes in New York while also trying to pay rent. Some improv classes can come with a hefty price tag, costing three to four hundred dollars per course. A lot of theaters also have multiple levels of classes, so to continue requires a lot of cash.
"I get it, people have got to eat and they've got to pay the bills," Morales said. "But I think for me, this is more about the community. It's more about uplifting an artist and helping them reach their artistic excellence."
Morales and Reyes say they want their classes to be more affordable and want to do away with the idea that you have to take five or six classes to succeed. They also hope that, with time, their theater will serve as a place to learn not just improv but also music, stand-up, sketch comedy, and more. They want to allow for "experimental" work, too.
"Everybody has a different sense of humor, and we just want to be open-minded about, 'Where are you coming from with that? How is this funny to you?'" Reyes said. "'How can I harness this so that we can help you develop as an artist?'"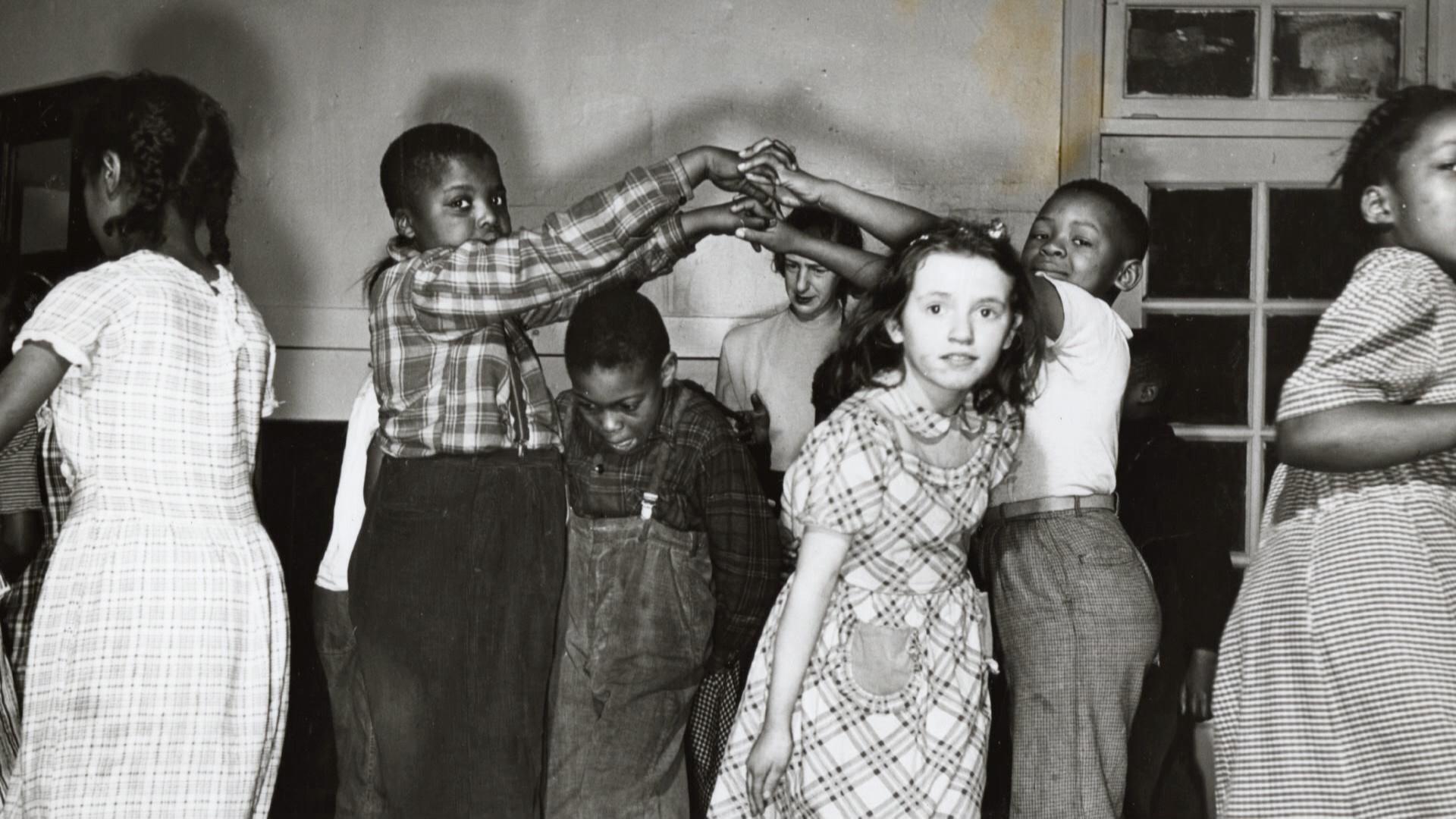 Morales and Reyes envision Stepping Stone as a kind of community center in addition to a theater, where there could be job postings, housing listings, or other resources for artists.
This concept is not unlike Hull House, the settlement house founded by Jane Addams. It was at Hull House that Viola Spolin learned the about the "power of play" and later developed the theater games that became the foundation of improv.
Spolin's theater games were developed for a diverse population. At the time, Hull House was located at the intersection of various immigrant neighborhoods in order to serve newly-arrived immigrants. In 1939, Spolin directed a show called "Halsted Street." Each scene was a different stop on the Halsted Street trolly car line and every stop told a different story. One theater critic from the Chicago Daily News described what he saw in the show.
I certainly saw something! There were about 150 people in the cast: Italians, Greeks, Mexicans, Negroes, and I don't know what other racial strains. They were of all ages and both sexes. What they were doing was not exactly a 'play' – It was perhaps what is called in the trade a revue. But its form does not matter. The important thing about it was that it was conceived, written, and played by the people themselves … Few will ever see this play; and I doubt if any professional critic will even hear of it. Yet for importance, I think it is worth about a dozen Broadway successes rolled into one.

Chicago Daily News critic, 1939
"The beauty of this play was, it was meant to kind of celebrate the neighborhood and it's diversity of people," Ross Jordan, director and curatorial manager at Hull House Museum, told Chicago Stories. "Each of the different ethnic populations got a voice in this play."
Stepping Stone also wants to ensure that all Chicagoans have a chance to share their voices through improv. Though they want to be based in Uptown ultimately, Morales and Reyes plan to offer performances, programs, and workshops at venues beyond the North Side, where most of the city's improv theaters are already concentrated.
"If there's a seven o'clock show at Stepping Stone Theater, there are also seven o'clock shows happening on the West Side and the South Side," Morales said. "I want people just to go in there and have fun. I want people to enjoy this art form as much as possible. And that comes with our whole philosophy of accessibility."
As other theaters reopen, they also see the opportunity to do something new and are having conversations similar to those of Morales and Reyes about what the improv community might look like in the coming years.
Kaydee Dolan, managing director of The Playground Theater, thinks smaller theaters are going to play a big role in developing Chicago's next generation of comedians. (The Playground is a black box theater previously located on Halsted Street in Lakeview, but it closed its doors during the pandemic and is hoping to find a new location.)
"Little places like us who have been around for a while but stayed relatively the same size, or brand-new, little places like the guys at Stepping Stone who want to have big goals – we need to build these places up," Dolan said. Smaller theaters, said Dolan, help performers fine-tune their skills so that they can succeed on the city's bigger stages.
Despite some of the curveballs thrown at the theater and improv communities in recent years, a lot of improvisers still think Chicago is the place to be to learn the craft. Its reputation as a city for comedians is in part because so many successful actors, writers, and directors have come through popular theaters such as The Second City and iO.
"I do think that Chicago is still known as the place where you can really just kind of dig into it and be doing it for the sake of learning it and performing it in a way that is very much about developing your chops, getting stage time, and making sure that you know everything there is to know about the art," said Jennifer Estlin, executive producer of The Annoyance Theatre.
"I don't think Chicago is necessarily the end-all-be-all," Dolan said. "I think people can create art anywhere, but doing it in Chicago is an incredible experience."
Jonald Reyes of Stepping Stone Theater still thinks the Chicago community has a lot to offer and is hoping that there will be a "comedy renaissance period" – a term Julia Morales says she loves.
"In 10 years, I hope to see these stages filled with so many people, a beautiful color of people," Morales said. "And I don't mean just skin color – just different types of people performing and changing the improv game and changing the comedy game."