Emily Graslie's Travel Journal | Prehistoric Road Trip
Prehistoric Road Trip was filmed in the summer of 2019 on three separate trips. Emily Graslie and crew traveled across five states to film the show over the course of nine weeks. Emily, along with the show's director and producer, Ally Gimbel, made note of their journey in a travel journal. See Ally's travel journal here.
Camping in the Hanna Basin, Wyoming 
I love camping. I love warm, soft beds and hot showers as much as the next person, too, but there's something about spending a long, sleepless night on the unforgivingly hard and cold ground, far away from modern luxuries such as flush toilets and electricity that really puts everything into perspective for a person. There's a time dilation that occurs when you're out camping for fieldwork (or, in my case, during film shoots) that I always look forward to – when I can escape from the boundaries of cell phone and Internet service, disconnect, and experience the novelty of being unreachable for any amount of time. Of course, when everything is going well, being out of contact and being able to fully focus on the task at hand is a real treat. And obviously, when things aren't, it's nice to be closer to home (and help!). Luckily, we experienced no dire obstacles or troubles during our camping excursions, and I will chalk that up to the expert preparedness of our team and crew.
Our first few nights camping were with the PETM team in the Hanna Basin of Wyoming. Even though they're some of the last scenes to appear in the show, filming the Hanna Basin scenes occurred early on in the film shoot within the first few days of our first trip, so I think the whole crew, the majority of whom live in either Chicago or New York, were especially looking forward to the remoteness of it all. I know I was. There was a moment of pure elation when Ally and I first stepped out of the car at the campsite, having arrived right at sunset and after a rain shower that made the landscape sparkle. The smell in the air was indescribably delightful: wet earth, plants bursting with flowers and life, and I saw pairs of shrikes (some of my favorite birds!) calling to one another and flitting back and forth between perches in the sagebrush. A rainbow opened up along the horizon behind the wind turbines and it was just perfect. After spending the better part of nine months in a windowless basement conference room at the Field Museum, we were so excited to be out in this part of the country. Ally and I looked at each other and both exclaimed sentiments along the lines of "This is what we were looking forward to! This is what all of the work and planning was for!"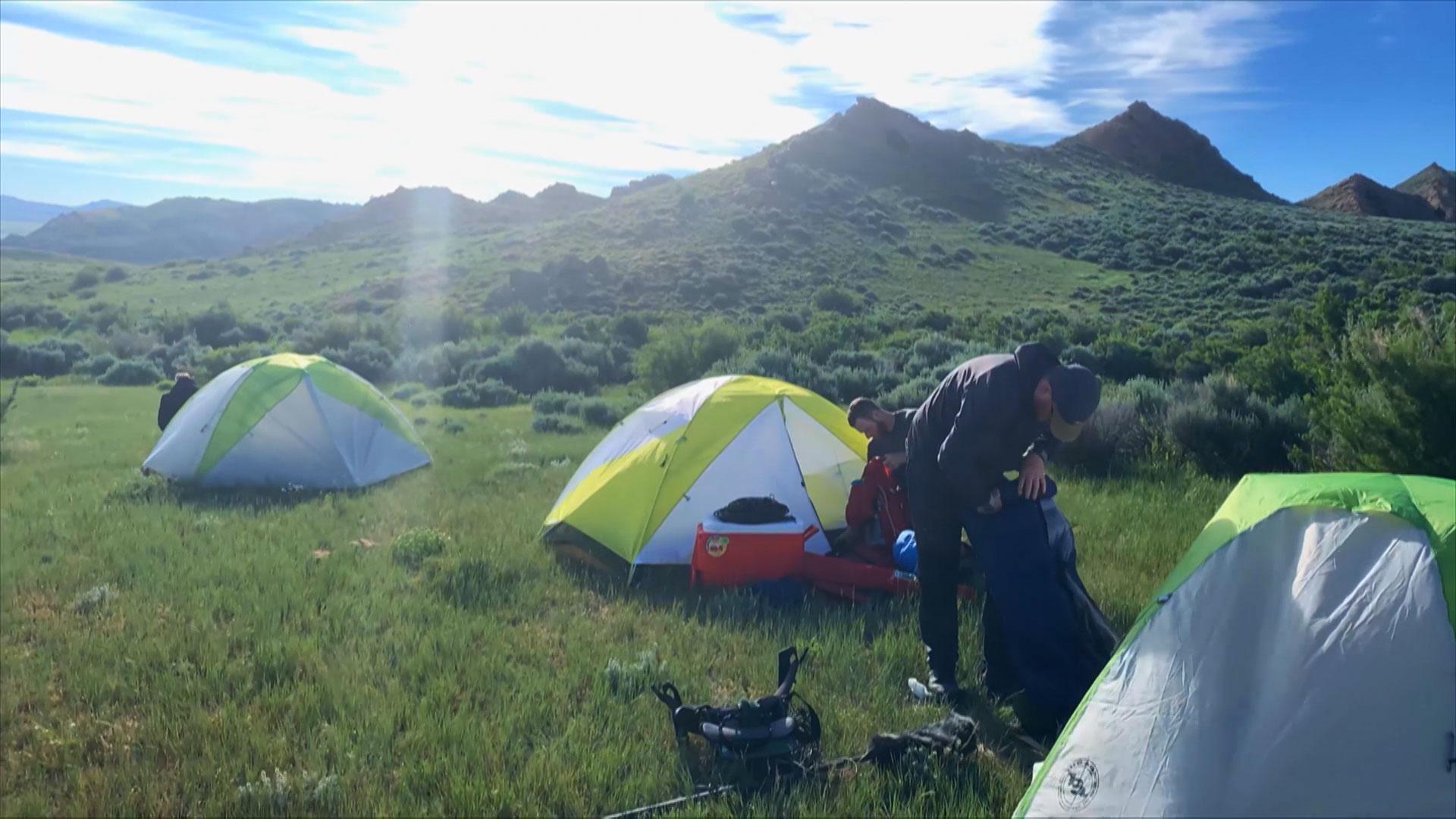 That night, a rainstorm blew through the area, and we were battered by torrential downpours, strong winds, blinding lightning, and ear-splitting thunder. Some of our crew hardly slept. I, on the other hand, have never slept better. Maybe it was from the exhaustion of preparing for the dozens of shoots in the weeks ahead of us that laid me out, maybe it was from my heart letting me take a break, finally content to be back in a part of the country that feels the most like home to me. It could have also been from the three sleeping bags the camping outfitters let me hoard in my tent since they had brought extras (I was very cozy). Regardless, camping in the Hanna Basin for those few days were some of my favorite times on the entire trip – even if the privacy tent around our toilet got blown away in that storm and a lot of our toilet paper got soaked. Luckily, we had extra. Nature spares no one! 
Fred the Cat in Harrison, Nebraska – and an Ode to Rattlesnakes 
I love all animals, from the spiders and centipedes in my basement to the birds in my backyard, and yes, also my neighbor's dog, Agnes, to whom I offer head scratches through the fence. Animals are amazing! But it's true: I am a cat person. Cats have a really special place in my heart, and we hadn't even been on the road for more than a week before I was sorely missing my two furry friends back home. I wasn't alone: the crew will attest that every pet we met on the trip was either a Very Good Dog or a Nice Kitty, and we all took turns patting our furry transient friends. (For proof, check out Ally's album of Set Pets because she took photos of all of them.)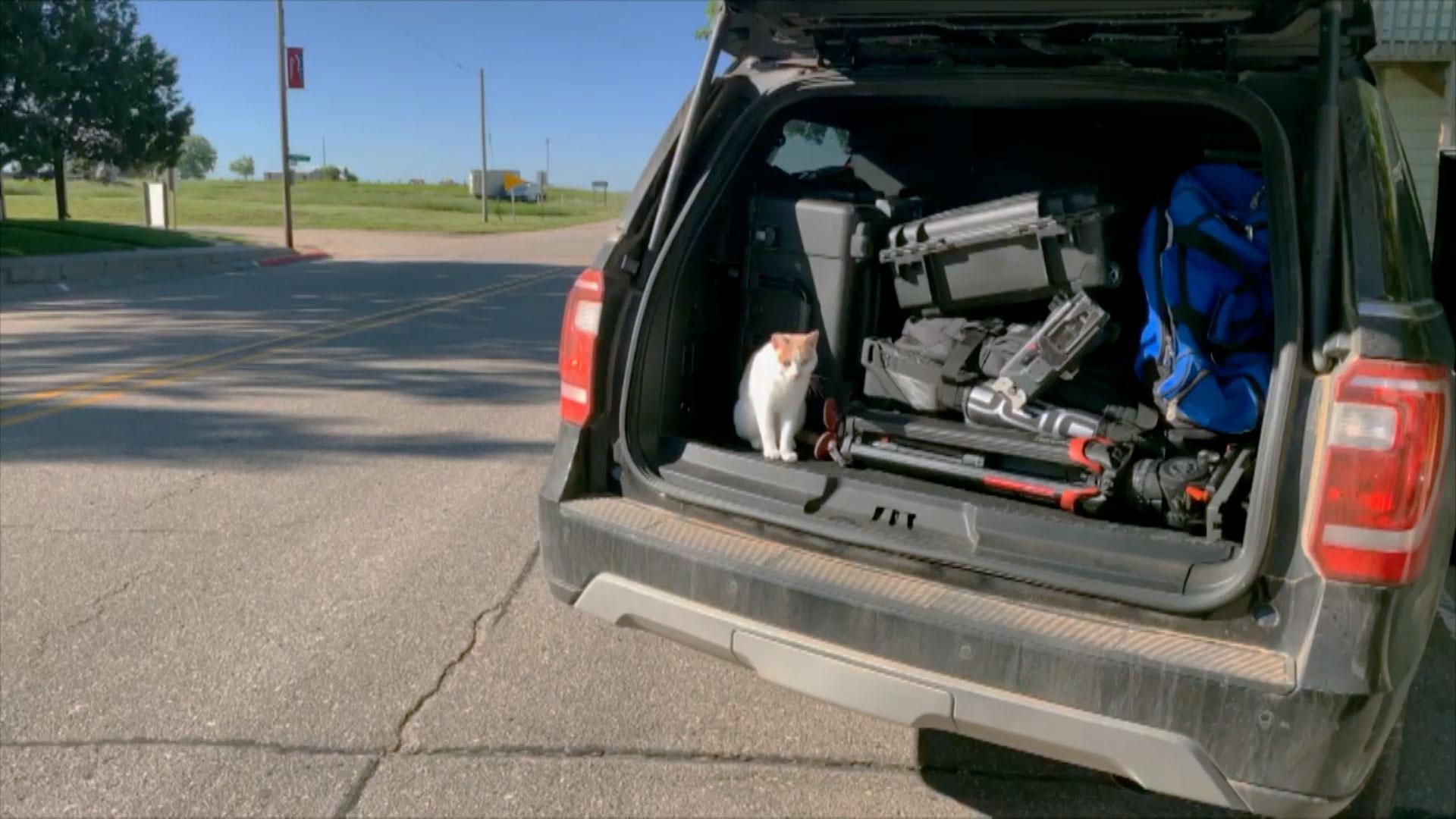 So it was one of these evenings I was missing my kitties pretty bad, and then, there was Fred: an orange-and-white tomcat who greeted me as soon as our crew rolled into the tiny town of Harrison, Nebraska. Turns out Fred blew into Harrison on his own after a snowstorm the previous winter, and the terrible weather left its mark in the form of his docked, frost-bitten ears. But he survived, and soon after the winter storm, the lady who lives at and manages the bed-and-breakfast we stayed in brought him under her care, and it was here where we met. We were in Harrison for only around 12 hours, but Fred left a big impression on our team the next morning before we rolled out to film at Agate Fossil Beds. He greeted the entire crew, sniffed all of our equipment, and even hopped into the back of the gear truck. 
Anyway, that was it with Fred: a hearty welcome, a pleasant "good morning," and then we were on our way. I still think about Fred the Cat in Harrison and the lovely bed-and-breakfast he now calls home. The bed-and-breakfast was great, too – full of taxidermy and old bedrooms with creaky floors. In the morning, our host made some of the most delicious sticky buns I've ever had, and we sipped fresh coffee with a group of locals who meet in her kitchen every morning to shoot the breeze and gossip about local goings-on. We were the big excitement in town that day – a film crew from Chicago! – and they all kindly reminded us to wear long pants and leather boots out at Agate, lest we run into the "rattlers."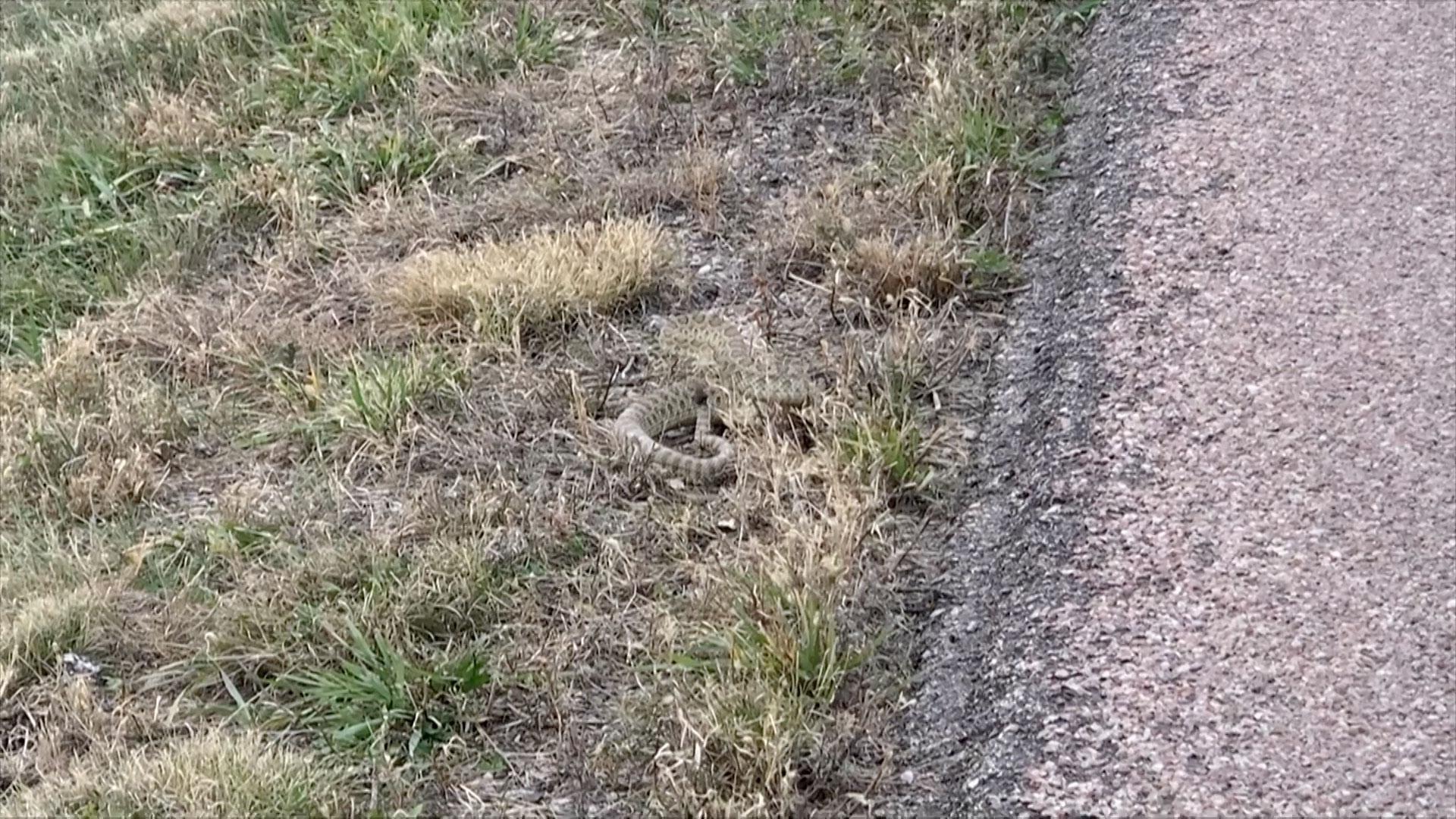 We didn't find any rattlesnakes in Agate or at any time on our trip, minus one spotted by paleontologist Cary Woodruff while on a break from filming at the Triceratops site in Montana. My love of animals also extends to snakes, so I was disappointed we weren't able to capture one on camera for the show. I affectionately refer to venomous snakes such as rattlers as "Danger Noodles," which I recommend you do, too, if you have a fear of snakes, because it makes them sound so much more adorable and manageable. It wasn't until the day after we wrapped filming, on a hike in the Black Hills with my Dad, when I finally saw a gigantic rattlesnake crossing the path in front of us! It held a defensive pose, and we kept our distance, watching it disappear into the grass. Then a few weeks later, I went back to Badlands National Park to visit our friend Ed Welsh. On our way back to the Visitor Center after looking for more Badlands fossils, we also came across a rattlesnake on the side of the road: it sounded its rattle from about fifteen feet away, promptly altering us to its presence. What a cool sight! 
Wall Drug, South Dakota, and Badlands National Park
One can't easily road trip through western South Dakota without noticing the many billboards and signs encouraging travelers to stop in the town of Wall (population: 876), located near Badlands National Park. If you've been on pretty much any highway or interstate in the U.S., you're likely to have noticed signage for the town's pharmacy/tourist stop, Wall Drug, and its offer of free ice water and $.05 coffee – holdovers from the 1930s during the Dust Bowl, when the pharmacy owners, Ted and Dorothy Hustead, were looking to diversify their revenue streams and incentivize travelers to pull off Highway 16 (which existed before Interstate 90 ran by the town).
Our crew stayed in Wall for a few days while we were filming in Badlands, and even in early June, the park was reaching uncomfortably hot temperatures. I did insist on everyone in the crew partaking in the free ice water (I mean…dehydration is no joke). As far as the other tourist-y things they partook in, well, I can't be sure; I was busy climbing atop a giant model of a jackalope and insisting that Ally take pictures of me on my valiant steed. 
Speaking of jackalopes, if you don't know, they're mythical creatures, hares with antlers, that roam (hop?) around the prairies of South Dakota and the nearby states. Taxidermied jackalope mounts are sold in Wall, and their visage can be spotted on everything from keychains and postcards to bumper stickers and coffee mugs. Years ago, the owner of Wall Drug (who happens to be an acquaintance of a family member) heard about my stint as a museum specimen preparator and budding taxidermy hobbyist, and offered to sell any jackalopes I might come across to the world-famous Wall Drug store. Wow! While the opportunity hasn't yet arisen, I'm delighted to know there are still untapped career opportunities in my future, and someday "Jackalope Taxidermist" could appear as a line item on my resume. A girl can dream!
I was delighted/bemused to see that the Cedar Pass Lodge Restaurant in Badlands National Park features Rocky Mountain Oysters on their menu. Now, I get what you're thinking: Oysters? In South Dakota? Surely they can't be fresh. There are no marine environments to speak of, and the Rocky Mountains are a fair jaunt from western South Dakota, so where are these oysters coming from?! Well, dear reader, "Rocky Mountain" and "Oyster" are both deceptive and misleading descriptions because "Rocky Mountain Oysters" is just a fun name for what is essentially fried bull testicles. Yes, I tried to trick the crew into ordering them. And no, I didn't succeed.
Yogo Inn in Lewistown, Montana
We spent a few days in the small Montana town of Lewistown (population: ~8,000) while filming on a private ranch for our segment about the Bear Gulch fish site. I'd heard a lot about Lewistown already because my college roommate Shelby is from the town. She'd frequently share snippets with me from the local paper, which publishes the Police Blotter a few times a week so the town's residents can have their finger on the pulse of any excitement happening in the area. Frequent inclusions in the Police Blotter are updates on the sheriff's activities and the number of burn permits requested, but occasionally the reports are a bit more colorful. 
Here are some notable mentions from the Police Blotter during the days we visited: 
June 25, 12:01 am: A nurse from Valle Vista reported a possible mountain lion sighting. 
June 25, 5:48 pm: A 911 caller reported a brown cow was out. The owner was contacted. 
June 25, 9:18 pm: A 911 caller asked to know if there were any fires around her residence because the sky was orange and appears hazy. The Judith Basin County Sheriff's deputy responded and advised it was the sunset.
June 27, 7:19 pm: A caller wondered what the Lewistown Police Department did about ducks and ducklings in town. The caller was advised to leave them alone. 
June 28, 5:37 am: A 911 caller reported ducklings in the storm drain. Fish, Wildlife, and Parks and officers responded. 
Obviously, reports about possible forest fires, loose livestock, and wildlife sightings are critical pieces of information for landowners and residents in the area. It was fascinating to have a bit of insight into the local happenings during our stay and reassuring to know that the people of Lewistown really stay on top of the whereabouts of their resident ducklings. Lewistown ducks are in good hands. 
We were staying at the Yogo Inn in Lewistown, which is home to some interesting bits of Montana history; for one, the Yogo absorbed Lewistown's original train depot building, which is now part of the hotel. And in the center of the hotel, embedded in the carpet near the pool is a tiled-mosaic sign with an outline of the state of Montana.
According to local lore, the geographic center of the state of Montana is in Lewistown, and very specifically, near the pool in Yogo Inn. But this claim has not gone undisputed. First, it was believed that the geographic center of the state was located under local resident Mrs. Dockery's kitchen sink. Then in 2004, well after the cement had dried in the mosaic proclaiming the Yogo Inn pool to be the center of the state, Montana state geographer Gerry Daumiller calculated the actual center to be in a dry cow pasture in a Hutterite colony 9 miles west of Lewistown.
Regardless of where the state's true center is, the memory of the Yogo Inn mosaic remains in the center of the fond memories I hold from our time in Lewistown. 
Roadside Attractions
Sometimes when you're driving through the Northern Plains, you don't even have to get out of the car to know that you're in fossil country. We passed many neat signs, such as the Fossil Cabin and the geologic road markers in Wyoming, as well as sculptures, such as the skeleton walking a dinosaur outside of Wall, South Dakota. I was particularly enamored with the life-sized dinosaur monuments outside many of the museums we visited. For some of my favorite moments from our trip, see the slideshow below!
I just couldn't resist sticking my head in the cowboy cut-out riding atop a fearsome T. rex outside the Garfield County Museum in Jordan, Montana.
The Garfield County Museum in Jordan, Montana has a few, modest, dinosaur displays and a fair number of notable local artifacts. The labels accompanying some of these objects could use a bit more information. Just how old is "very old"?
Artist Chris Navarro made this 28-foot-long statue, titled Essence of Rex, to commemorate the Casper College discovery of a T. rex fossil affectionately referred to as "Lee Rex." When viewed from one angle you can see the fleshed-out side, and when you view it from the opposite side, you can see the animal's skeleton.
You definitely know you've arrived at the Museum of the Rockies in Bozeman, Montana when you see the model of the running T. rex outside of the building. This sculpture is based on a skeleton found by Montana resident Kathy Wankel in 1988. 
When I first thought about making a show about paleontology in my home state of South Dakota, Dinosaur Park in Rapid City was a must-include. I grew up just down the hill from these monumental wonders and perhaps nothing sticks out more strongly in my mind from my childhood than the many, many days I spent climbing all over the concrete beasts.
A pink toilet houses bouquets of fake flowers underneath an old sign in Medicine Bow, Wyoming. Why? I have no idea. 
I love seeing how people express their appreciation for paleontology and local culture in different ways, and perhaps nowhere was that more delightful than in a few Montana-made quilts, such as this one in Glendive.
I cross-stitch, and while we were on the road, I was working on a geometrically designed Triceratops pattern. Here is the scene in action while I was working on it in my tent the night we camped in Standing Rock.