Charlevoix and Petoskey, Michigan
The old lumber port of Charlevoix stands apart from the lakeshore towns of western Michigan in several respects. Its main drag is lined with petunias, planted each spring by a small army of volunteers. Its waters are lined with the yachts of its many well-to-do summer residents. And some of its homes look as if they just might be inhabited by…hobbits. Called "mushroom houses," they are the distinctive creations of Earl Young, an architecture-school dropout and collector of large stones who designed dozens of homes here in the early twentieth century.
And the mushroom houses aren't the only fanciful buildings in the Charlevoix area. Castle Farms is a large, stone castle surrounded by a hedge maze, a large outdoor model railroad, and an "Enchanted Forest" full of gnomes. The castle itself was conceived by Chicago millionaire and Sears executive Albert Loeb and built in 1918. It originally included the Loeb family's sprawling country home, stables, blacksmith shop, a cheese factory, and even a baseball diamond for Loeb's semi-pro team, the Sodbusters.
Loeb's dairy operation with prize-winning cows was a showcase for farm equipment sold by Sears, Roebuck and Company, where he was a top executive. It included milking machines, automatic watering troughs, and manure conveyors. The farm became the largest employer in the county. And Loeb publicized its success to build business for Sears. After Loeb's death, the buildings were used just for storage and fell into ruin. A later owner used the property for big-name rock concerts. Today it's a wedding and event venue.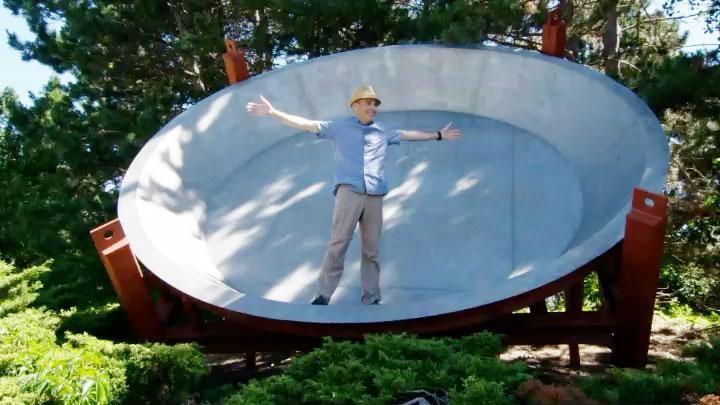 The Cherry Pie Controversy
Two Michigan towns (Charlevoix and Traverse City) both lay claim to having baked the World's Largest Cherry Pie. So, who's right? Geoffrey Baer investigates.
Nearby working farms open to visitors include several cherry orchards and one working lavender farm, which is particularly popular in mid-July, when the lavender tends to reach peak bloom.
The area surrounding Charlevoix has pristine beaches, a historic lighthouse, several protected areas for birds, and many shopping and dining opportunities – including nearly a half-dozen, local craft breweries and several wineries. There are also several hiking trails to choose from and waterways to fish in, from Lake Michigan and Lake Charlevoix to inland lakes, rivers, and streams. And both Golf.com and Golf Digest named the nearby Bay Harbor Golf Club one of the best golf resorts in the Midwest.
Bikers and joggers enjoy the Little Traverse Wheelway, a smooth, 23-mile path that circles the Little Traverse Bay, connecting Charlevoix to Petoskey and Harbor Springs. In the winter, the Wheelway transforms into a cross-country skiing and snowshoeing trail. There are also several downhill skiing, snowmobiling, and sledding locations in the area.
And if you make it to Petoskey, keep an eye out for Michigan's state stone. Petoskey Stones are 400-million-year-old fossilized corals that, when wet, reveal a distinctive hexagonal pattern. Most people search for them at the water's edge – or, of course, in local souvenir shops.